Margot & The Nuclear So and So's - Rot Gut (Signed By Band) – LIMITED 1st Edition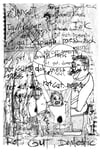 This is a collage of illustrations produced and featured throughout the vinyl and CD released of Margot and The Nuclear So and So's 2012 full length release, "Rot Gut, Domestic".
50 Produced, and Signed by each band member, numbered.
8 Remain as of Spring 2023
Every archival ink print is signed by each band member, original individual signatures. They signed each one for me in late March 2012, before the official release of "Rot Gut, Domestic."
The original ink illustrations are for sale, too, and all have the band members original signatures on them–but a few sold already, or were given to private collections. What remains is available in this online store to find and peruse through if you desire.
____________________________
Limited 1st Ed. Run of Prints
> 12.5" x 19"
S&H: US / Canada: $15.00 / Global: $40.00
Ships flat, signed, numbered, sealed, and insured.
Expect 5-10 business days for delivery.
Thank you!
AW | dD